Origin
The Portuguese Water Dog, or Cao de Agua, is an old breed of a type first documented in 1297 AD. It is believed to have arrived in Portugal from Russia via the Middle East and Morocco, crossing to the Iberian Peninsula with the Moors in about 712 AD. Once widespread throughout the fishing ports it was an invaluable aid to fishermen of the region. Taken out in the fishing boats the PWD was retriever, messenger, life-saver, and herder rolled into one. Anything that fell overboard, tackle, fish, or crew, it would bring back as well as helping to handle the nets and lines. It would swim between boats, or from boat to shore, with messages and would 'herd' schools of fish into the waiting nets. It also served as a lookout in the bow alerting to the presence of fish and warning of other boats in foggy weather and guarded both catch and boat when in port.. It is estimated that the dog can dive to the depth of 3.6 m (12 feet) and swim 8 km (5 miles) in a temperate sea, but how it manages to jump unaided from the water into a boat remains a mystery. Mechanization has rendered the PWD redundant in much of its traditional work, but they are still to be found in the Algarve. The breed was first imported into Britain in 1954.
Character
The hard and penetrating stare of the Portuguese Water Dog belies its very pleasant disposition and stable temperament. This is an excellent breed for the active family that is prepared to meet the grooming, exercise and training requirements of the PWD. He is an exceptionally loyal dog, very devoted to all family members, and just wants to be with you whatever you may be doing. It is therefore obvious that this is an indoor dog which needs a considerable amount of affection from, and interaction with, his family. They are usually very good with children, playful but sensible, and will generally accept other dogs quite happily. His natural alertness and sensitivity to all that is going on around him make him a good watchdog who will warn of trespassers, but any tendency to bite or attack is totally out of character. The PWD does possess a certain degree of willful determination which needs to be addressed early to prevent him from taking liberties.
Exercise
Energetic, exuberant, highly intelligent, possessed of seemingly boundless energy, the PWD needs regular physical exercise and mental stimulation. A true water dog, the opportunity to run on a beach and swim in the sea would be his idea of heaven. If that cannot be managed then daily walks and the chance to run off-lead in a safe area, plus games will keep his body fit and his mind active. His is well suited to such dog sports as agility, tracking, obedience, working trials, etc. As with all large breeds, care must be taken not to over-exercise the growing pup and put stress on developing bones and joints.
Training
Very trainable and willing to work, the PWD is quick to learn and understand commands. However, his astuteness and ability to think for himself can sometimes lead to him getting the better of his handler. Kindly, patient, consistent, positive training methods are required. The PWD is extremely sensitive to voice tones so harsh methods of training are completely unnecessary and will undermine the dog's trust and spoil the relationship between dog and owner. PWD's are capable of competing successfully at the highest levels of obedience, but their character is such that most would prefer the more physically demanding activities of water trials, tracking, agility, etc. at all of which they excel due to their enthusiasm and innate abilities. Socialization with adults, children and other dogs is important to ensure that the mature dog is confident and at ease in all situations.
Health
GM1 gangliosidosis (storage disease)
progressive retinal atrophy (PRA)
hip dysplasia
Addison's disease
heart disease
cancer
Pictures
Some photographs of the Portuguese Water Dog...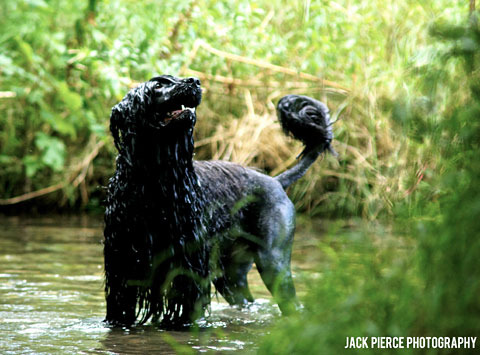 Ludo, owned by Cheryl Matton in Gravesend, Kent, UK
CH Robenger Forest Sunrise Over Austwell, or Ludo for short, is our stunning wavy coat Portuguese Water Dog.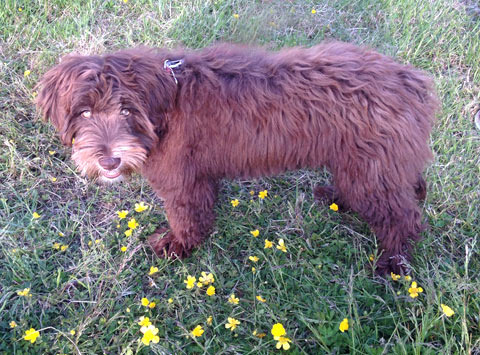 Tangle, owned by Cath in Wigan, UK
Tangle was a very soft natured, loving puppy - this photo was taken at 4 months old.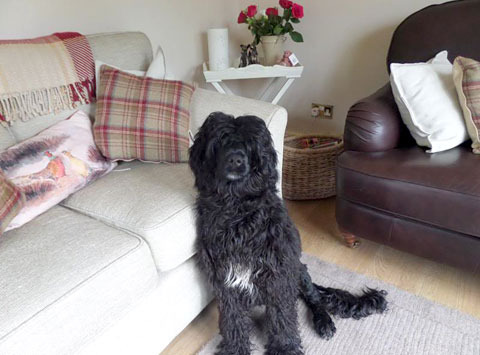 Figo, owned by Jackie in Staffordshire, UK
This is Figo at around 6 months old - we love him to bits, as there is never a dull moment with him around! For more info and photos, see Figo's thread in our forum.